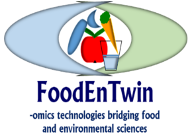 Project is funded by: European Commission (Brusseles, Belgium)
Instituions where the research is conducted:
Karolinska Institutet (Belgrade, Serbia) – Beneficiary
University of Belgrade - Faculty of Chemistry (Belgrade, Serbia) – Coordination
Medicinski univerzitet u Becu (Beč, Austria) – Beneficiary
Ghent University (Ghent, Belgium) – Beneficiary
Project realization is scheduled from September 1, 2018 till December 31, 2021.
Project staff
Short description of the project
The project: "Twinning of research activities for the frontier research in the fields of food, nutrition and environmental 'omics" has received funding from the European Union's Horizon 2020 research and innovation programme under grant agreement No 810752 and its realization has started September 1st 2018.
The objective of the project is creation of European research network among the HEMIJSKI FAKULTET, UNIVERZITET U BEOGRADU (Eng. University of Belgrade – Faculty of Chemistry) (UBFC) and its research Center of Research Excellence for Molecular Food Sciences (CoE MFS) and four high renowned institutes from Sweden (Karolinska Institute), Austria (Medical University of Vienna) and Belgium (KU Leuven and Gent University). The network will provide UBFC and its partners increasing of scientific excellence and visibility, technology innovation capacity enabling frontier research at the crossroad of food, agriculture, chemistry, nutrition and environmental sciences by the infusion of –omics technologies (proteomics, lipidomics, transcriptomics, allergomics and metallomics) and experimental animal models.