Development of the assays for detection of SARS-CoV-2 virus capsid proteins in biological fluids of COVID-19 patients

Project acronym: CAPSIDO

Project type: COVID-19

Unique project identifier: 7542203
Project is funded by: Science Fund of the Republic of Serbia (Belgrade, Serbia)
Instituions where the research is conducted:
University of Belgrade - Faculty of Chemistry (Belgrade, Serbia)
Poljoprivredni fakultet (Zemun, Serbia)
Project realization is scheduled from December 22, 2020 till December 22, 2022.
Repository for research results: https://cherry.chem.bg.ac.rs/handle/123456789/4330
Short description of the project
The accurate diagnosis of people infected with the SARS-CoV-2 is essential to curb the global spread of COVID-19. The presence of SARS-CoV-2 can be detected by RT-PCR or by the presence of viral antigens in biological fluids using specific antibodies. Novel quantitative methods of detection of SARS-CoV-2 nucleocapsid (N) protein in biological fluids will be developed. Large scale recombinant production of N-protein and immunochemical methods (capture ELISA, immune-PCR test, immunoaffinity-based test) will be used for detection of N-protein in biological fluids. High resolution mass spectrometry-based methods will be used in immunoaffinity method development and recombinant protein characterization. Antibody-based tests for detection of SARS-CoV-2 antigens could provide more reliable and timely SARS-CoV-2 diagnosis of acute infection. ELISA is more convenient and economical than RTPCR, and serve as an alternative tool for the early diagnosis of SARS CoV-2 infection in laboratories and for mass screening for the reservoir of virus thus enabling better response to COVID19 pandemic.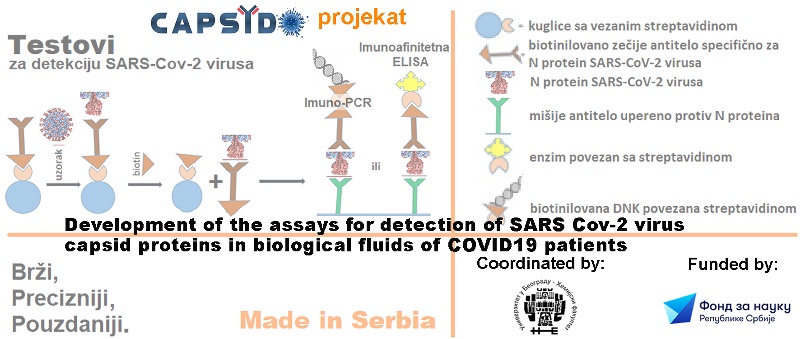 Capsido graphical abstract
Representative references
1. Teodora Djukic, Maja Mladenovic, Dragana Stanic-Vucinic, Jelena Radosavljevic, Katarina Smiljanic, Ljiljana Sabljic, Marija Devic, Danica Cujic, Tamara Vasovic, Ana Simovic, Mirjana Radomirovic, Tanja Cirkovic Velickovic. Expression, purification and immunological characterization of recombinant nucleocapsid protein fragment from SARS-CoV-2. Virology,2021,557:15-22,ISSN 0042-6822, https://doi.org/10.1016/j.virol.2021.01.004.(https://www.sciencedirect.com/science/article/pii/S004268222100012X)

Tue Jun 8 11:21:07 2021